Immediate Press Release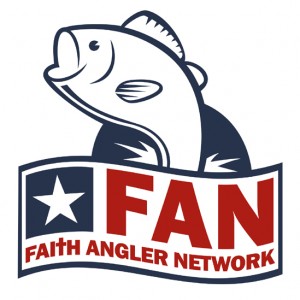 From:  Faith Angler Network
RE:  FAN Announces the 2013 Fishing Teams
Faith Angler Network is excited to launch their 2013 Fishing Teams.
"We have always wanted to have our staff out there promoting and representing the Faith Angler Network Brand during other tournaments and events, and this year we are proud to see that vision coming together" stated Jeff Cook founder of Faith Angler Network.
Fishing as a team for the North Central Region is Ron Seevers, and Steve Hampton. Ron and Steve have been fishing the Tuff Man Series this fall, and will also be managing the FAN North Central events on Lake Waco, Belton, and Still house hollow. They will also be fishing other trails in the area as time and schedules allow.
Representing the South Central Region will be the team of Justin Rieger and Lance Hale. Justin and Lance will be fishing Bass Champs Central and FAN North Central tournaments, in addition to other tournaments in the region.
Faith Angler Network is excited to watch these teams hit the water this fall and next year, and continue to build the platform to grow our Pro-Staff and fishing teams in the years to come.
You can read more about them and the rest of our Pro-Staff on our webpage
Faith Angler Network is a 501©3 Non-Profit Organization comprised of people who share a love of Christ, the outdoors and the sport of fishing.  In addition to organizing a professionally ran and competitive bass tournament trail in Central Texas, we organize youth fishing and outdoor events, outdoor expos for churches and corporations, and special fishing and outdoor events for our service men and women.