FOR IMMEDIATE RELEASE
Contact: Jeff Cook
Faith Angler Network
Info@faithanglernetwork.com
Another successful year at the National Hunting and Fishing Day held at Old Settlers Park in Round Rock September 28th 2013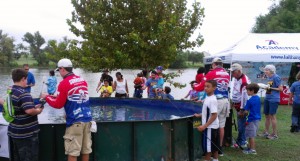 FAN High School Bass Team helping kids learn to catch cat fish at the Kid Fish Tank
National Hunting and Fishing Day presented by Kids Outdoor Zone and The City of Round Rock is part of the National Campaign to celebrate this special annual "holiday" established by Congress (in 1972) to recognize hunters, anglers, and recreational shooters for their leadership and contributions to conservation in America. Through dues and contributions to conservation organizations, hunters give an additional $280 million annually for wildlife and habitat.
Faith Angler Network was honored to be part of the event again this year, and enjoyed assisting kids of all ages catch catfish ."It is always fun and exciting to watch a child catch their first fish ever" said Scott Anderson Director of FAN's High School Fishing Programs. Several of the FAN High School Fishing Team was on hand to help the kids learn how to fish, many for the first time.  At the FAN booth we handed out trophies and prizes for those who caught fish either in the Kid Fish tank or from the fishing pond. "One of the best aspects of these outdoor and kid fish events is we have the opportunity to educate and show parents, grandparents, and caregivers the basic instruction as to how to rig and use a rod and reel. Then encourage them to go to the local park or community pond and spend time with each other outdoors. These are experiences that have life long memories" Stated Jeff Cook, Director of Faith Angler Network.
Representing the FAN High School Bass Team at the event was Colt Anderson, Brett Sunvison, Joey Russell, Nicklaus Langlois.  We want to also recognize the parents who are critical to the success of the program, Jim Sunvison, Ray Langlois, and Mary Anderson. And big thank you to EC Jenkins and Marine Outlet for bringing out the beautiful Phoenix 920Pro Bass Boat for everyone to see.
To learn more about the FAN High School Fishing Program go to http://fanhighschoolbassteam.com or contact Scott Anderson 512-522-2658 info@fanhighschoolbassteam.com To learn more about NHFD visit www.nhfday.org
The Kids Outdoor Zone Youth Adventure Ministry, a 501(c)3. KOZ Provides outdoor adventure programs to kids 8 – 18, including summer camps, weekend outings, outdoor speakers and adventure events at your location. http://www.kidsoutdoorzone.com
Faith Angler Network is a 501©3 non-profit organization serving the Central Texas Area with High School Fishing Programs/Youth Fishing Events/ Charity Events/ Military Supported and Awareness Events/ Professional Run Bass Tournaments. www.faithanglernertwork.com