With day two of the 2012 Faith Angler Network Championship in the books David Bueche and Ander Meine held on to their lead bringing 12.85 pounds to the scales and enough to take home the 2012 Faith Angler Network Champions title with a total 2 day weight of 32.02.
Ander told me that they had found a pattern during practice that he guessed went about 20 pounds, which would be fairly accurate come day one of the tournament. They focused on a stretch in mid lake on open water using top water lures. He mentioned most of their bites came early including their biggest fish of the day. David said that afternoon the bite slowed down considerably and they went to a slower "drop shot" approach where they managed to cull there limit twice.
Day two was not as friendly to them David said, the top water bite was not working although they did managed one good fish on a frog early in the morning. The rest of the day they went "junk fishing " Ander says, with them finishing out there limits on offshore weed lines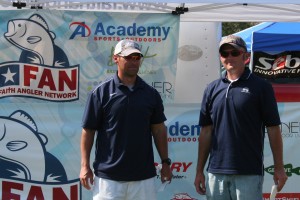 Although not a first place finish over all the team of Bud Crooms and Matt Millard would have the heaviest sack of largemouth bass on day two. Even with trolling motor batteries and an early trip to the scales they came in with an impressive 19.35 for the day and 2 day weight of 29.67 for a 4th place finish.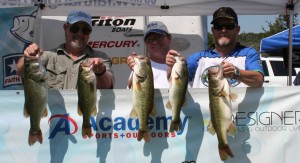 Big Bass of day two was caught by Lance Wenmohs who fished with partner Mike Clark- Lance's bass weighed in at 6.5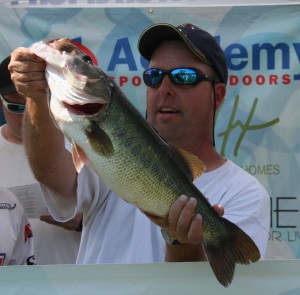 Faith Angler Network would like to thank all the anglers and sponsors that made 2012 a successful and wonderful season.