For Immediate Release:
Faith Angler Network
2800 E Whitestone Blvd. #120
Cedar Park, TX 78613
Faithanglernetwork.com
Jeff Cook
Info@faithanglernetwork.com
October 4, 2014
Faith Angler Network High School Fishing held the first annual Series Championship and Banquet on Lake Belton hosted by BLORA.
With $5, 000 in scholarship funds and plenty of Berkley Fishing products on line for the first annual FAN High School Championship, student anglers and parents alike were full of excitement and anticipation as they greeted the shores of BLORA on Lake Belton Saturday morning in preparation for take-off at safe light.
24 teams representing over 20 High Schools qualified through the points of 3 tournaments over the spring on central Texas lakes. All anglers received a special treat of soft plastics from volunteer boat captain Lance Hale donated by Papa Chops Rod and Reel Repair.
 The weather would cooperate on this beautiful Saturday with a cool morning in the mid 50's, and the afternoon sunshine delivered mild low 80 degree temperatures as the volunteers prepared for a full house attending the banquet with special guest Alton Jones (BASS Elite angler and 2008 BASS Master Classic Champion). We were also blessed with a local talented musician and Lake Travis High School fishing team member Tyler Anderson who performed for the crowd of over 250 student anglers, parents, grandparents and guests.
 As the team ascended to the banks of BLORA at the 2PM check in, it was apparent fishing was tough and catching a limit of 5 bass was challenging for many. Team after team brought their fish to the scales to be measured, weighed, and then released back into Lake Belton without results being officially announced until the awards ceremony at the banquet which started just after the scales were closed.
Once all the teams weighed in their catch, everyone took a seat at the Live Oak Pavilion and were served a wonderful BBQ meal from the outstanding men and women of Cen-Tex Bass Hunters fishing club of Temple Texas and Kevin Stuart of LR Meat Company in Belton, TX.
The bucket raffle and silent auction had plenty of inviting items for anglers and families alike, and we want to thank those donors for their support as well. Thanks to Jack Allen's Kitchen, Cover Three, Barley Swine, Odd Duck, Z-Tejas, Chili's Restaurant, Alamo Draft House, Cedar Park Cinema, Berkley Fishing, Abu Garcia, Kistler Rods, and Academy Sports + Outdoors
We were honored to have Alton Jones as our guest speaker. Alton delivered a message that no matter how you finish a tournament, no matter what the conditions of the day, God wants to use you and that experience to glorify Him. The great days and the not so great days are all part of God's design to build us for his purpose.
 The moment everyone was waiting on was at hand and the FAN staff brought all 24 teams and captains to the stage to reveal the teams weights and recognize the top student anglers and award the first and second place teams their scholarship awards totaling $5000.00
This was as close of a competition as we have seen in many years with .01 of a pound separating first and second place. There can only be one winner though, and that team would be Cole Jones and Trent Lindsey representing Academy High School with a 4 fish limit weighing 9.27 pounds.
Cole and Trent each earned $1500.00 in Scholarship funds.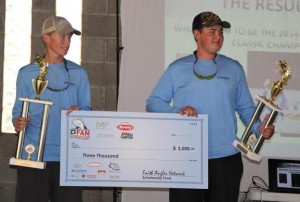 Coming in second place with 5 bass weighing 9.26 pounds (SOOO CLOSE) was the team of Cade Rucker and Clay Harbison fishing with the FAN High School Bass Team earning them $1000.00 each in scholarship funds.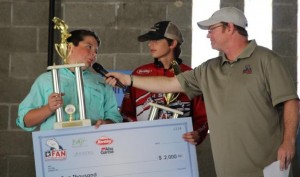 Taking third place honors with five bass weighing 8.00 pounds even were Jake Read and Taylor Thomas from Vista Ridge High School. They were awarded a third place trophy and Berkley Fishing Products.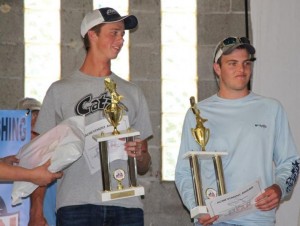 All the photos and full results can be seen here.
We would like to thank everyone for making this a fun and successful season. Without the great parents, anglers, and captains this would not be possible.
We want to thank all of our sponsors for your support and generosity. We are forever grateful!

Faith Angler Network is a 501©3 non-profit organization serving the Central Texas Area with Youth Fishing Events/ charity Events/ Military Supported and Awareness Events/ Professional Run Bass Tournaments. www.faithanglernertwork.com