Presented by

What an exciting end to the FAN South Division 2022-2023 season! Going into the final Qualifier on April 1st there were very few points separating 1st and 2nd place for Angler of the Year, and Choke Canyon set the stage for the ultimate showdown with 86 teams competing for their last chance at a Championship spot.
On a day that saw over half of the field weigh in a 5 fish limit, it ultimately took over 24 pounds to get the win. The Bass Club of Champions team of Eli Christian and Cooper Kennell pulled off a HUGE win along with Big Bass of the day. They weighed in 24.32 lbs with an incredible 10.26 lb Big Bass, earning them Kistler Graphite Series Rods for 1st Place and another one for Big Bass.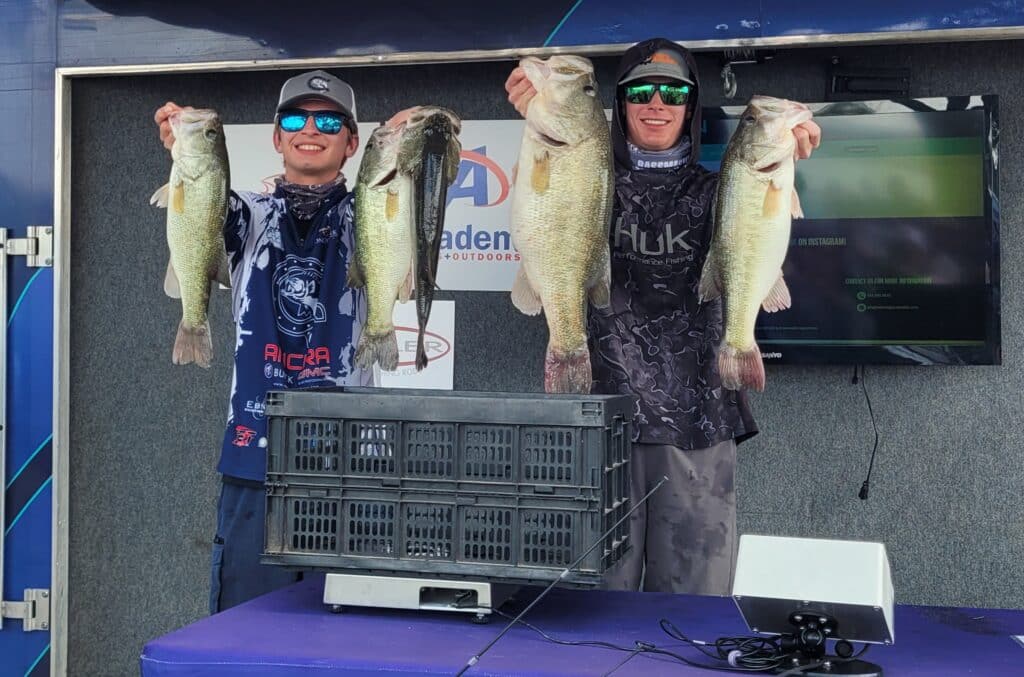 The Boerne Greyhounds team of Turner Matkin and Connor Hague took second place with a 19.93 lb bag and took home Kistler reels as well as their plaque.
Right on their tails in 3rd place were another Boerne Greyhounds team. Wesley Tillman and Kaden Brown were less than a pound behind them with 19.80 lbs who were awarded Abu Garcia reels.
Rounding out the Top 10% and securing a spot in the Championship were:
4th Place – Braxton Ebner and Remington Stewart (Boerne and Champions) 17.05
5th Place – Cole Young and Judd Lozano (Boerne) 16.85
6th Place – Kase Kramer and Rance Penick (Fredericksburg) 16.81
7th Place – Rylan Piel and Kason Piel (Hawks) 16.56
8th Place – Kasen Keene and Dane Miley (Liberty Hill) 14.69
9th Place – Cannon Jamison and Utah Anderson (5th Day Anglers) 13.88
When the dust settled and the final fish were weighed, the team of Remington Stewart and Braxton Ebner (Bass Club of Champions and Boerne) ultimately secured their title of the 2022-2023 FAN South Division Anglers of the Year! They both earned a $750 scholarship, a $250 voucher for Berkley or Abu Garcia products along with the FAN OT Wear AOY fishing jersey. Congratulations to Remington and Braxton on an amazing season!
Congratulations to all who qualified for the Championship on Lake O.H. Ivie this season! It's going to be a great one!