HOSTED BY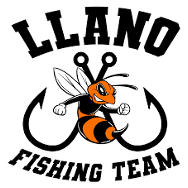 PRESENTED BY

The second FAN Qualifier of the season will be held on Lake LBJ. The tournament will be hosted by Llano Fishing Team for a chance to qualify for the Championship in May with over $15,000.00 in scholarships and prizes.
Where- Tournament Host Site
Lake LBJ Yacht Club & Marina
200 S Wirtz Dam Rd, Horseshoe Bay, TX 78657
Google Map
When- December 9, 2023
Food- Llano Fishing Team will be serving BBQ sandwiches, chips and a drink for $10. COME HUNGRY!!!
Contact- Llano Fishing Team
Randi Gass (830) 385-2907, Meghan Blackford (325) 248-8047
THIS WILL BE A TRAILERING EVENT.
This means you are free to launch at the ramp of your choice. There are several boat ramps available to avoid larger groups and lines at any one ramp.
Please see the attached map showing off-limit locations.
There will not be a physical check-in location that morning – we will be using GroupMe.
All FAN Anglers must be registered in the FAN GroupMe App and check-in with messages when prompted by FAN on the morning of the tournament. Example for the check-in message on GroupMe (Boat #, 1st anglers last name, 2nd anglers last name)
Register for GroupMe here.
Boat launching will start at 6am, you may leave the launching area. PLEASE BE SAFE!
First Cast at 6:45am – Last Cast at 2pm
Scales will open at 12pm, YOU MUST BE CHECKED IN BY 3pm
Please be mindful of the time required to get boats on trailers and get to the weigh-in location.
ALL ANGLERS MUST CHECK IN AT WEIGH-IN REGARDLESS IF THEY ARE WEIGHING FISH OR NOT. FAILURE TO CHECK IN WILL RESULT IN A LOSS OF TOURNAMENT/AOY POINTS. FAN NEEDS TO KNOW EVERYONE IS SAFE AND OFF THE WATER.
EVERYONE MUST PHYSICALLY CHECK IN AT THE END OF THE TOURNAMENT – NO EXCEPTIONS!!!
YOU MUST HAVE AN ADULT CAPTAIN AND TWO QUALIFIED STUDENTS OR YOU WILL BE DISQUALIFIED.
Only Captains and student anglers are allowed on the boat during the tournament.
FOR RULES AND REGULATIONS CLICK HERE.
We will send notifications through the GroupMe for last-minute changes as well as updates on the FAN Facebook page.
Who is eligible? Registration is open to all 6th, 7th, 8th, 9th, 10th, 11th, and 12th-grade students. The entry fee for the Lake LBJ Tournament is $60 a boat with two team members and a qualified captain. Each team member must be a FAN member. Contestants must also have the signature of a parent or legal guardian in the provided space on the liability form of the online membership registration. Each team must consist of two eligible student contestants and one adult boat captain.
Weigh in– YOU MUST BE checked in by 3pm. If you are not weighing in fish, you still need to check in to indicate you are off the lake or you will not be awarded points.  
Registration-
All teams must register by Wednesday, December 6th at 9:00 PM CST.  The registration deadline is the Wednesday prior to the tournament via online registration and online payment only.  Late registrations may be considered Saturday for complete teams only and will be added to the bottom of the boat launch sequence. Please contact info@faithanglernetwork.com with any questions regarding registration or if you will register late.
About the lake-
Location: On the Colorado River in Burnet County, near the towns of Marble Falls, Kingsland, and Granite Shoals with a surface area: 6,449 acres. Impounded in 1951 it has a maximum depth of 90 feet. The shoreline surrounding Lake LBJ is highly developed, with miles of bulkhead and boat houses that provide cover. Several creeks wind back off the main lake, providing shallow vegetative cover in the form of water willow and spatterdock. The area near the dam is rocky and clear, while the upper end of the reservoir is more sandy and stained. A small power plant is located in the Horseshoe Bay area, discharging hot water during the winter, when forage and game fish will concentrate in this area. Many submerged brush piles are hidden beneath the surface and can provide excellent angling opportunities if located. Don't expect these "honey holes" to be advertised, good electronic sonar equipment will be needed to find these structures.
OFF LIMITS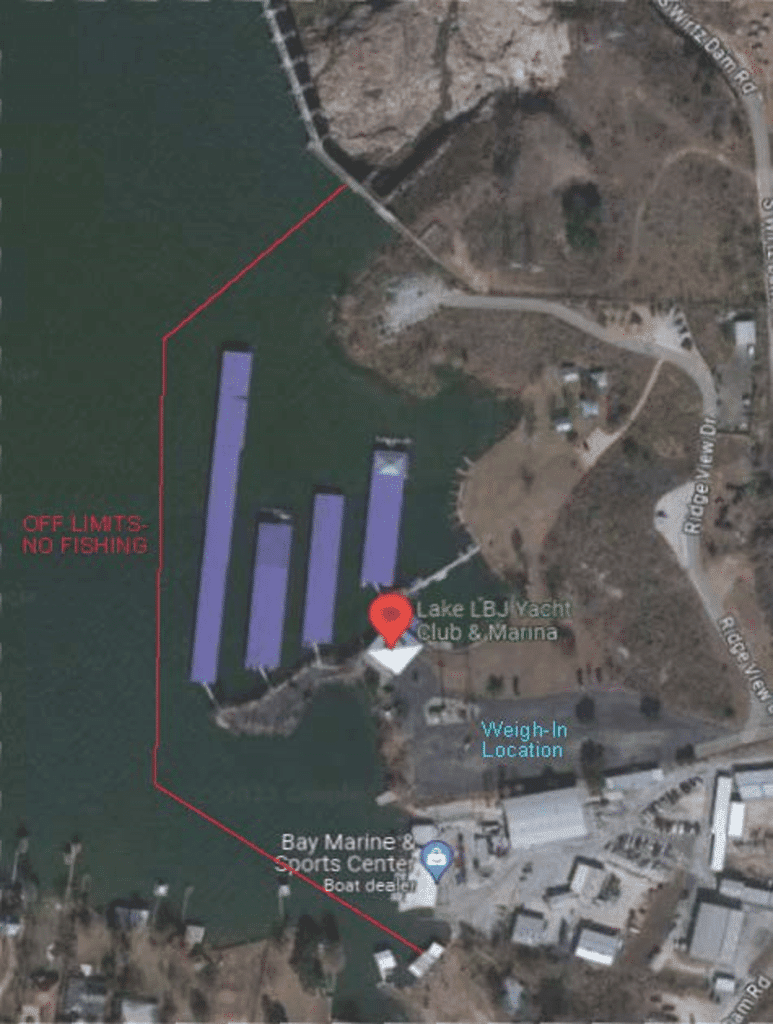 Captain Incentives- (Must be present to win)
Captains will be recognized with the Captains Awards including a $50 Gift Card for the winning Captain and another $50 gift card in a random Captains drawing.
Championship Eligibility-
To be eligible for the championship, the angler must have fished at least 3 of the 4 qualifying tournaments. To qualify you must be in the:
Top 10% in each Qualifying Event
Top 50% of qualifying anglers based on their total points.
Angler-of-the-Year Scholarship Awards: A $1,500 scholarship will be awarded to the highest-finishing angler. Plus, a custom FAN AOY Jersey, presented by OT Wear – Official Fishing Jersey for FAN.
The FAN "OT Wear Team of the Year" Awards: The highest finishing team wearing OT Wear fishing jerseys will receive a $750 scholarship award.
Championship Scholarships – This season we will award $12,000 in scholarships and award the top 5 places at the Championship Tournament.
1st Place – $4,000
2nd Place – $3,000
3rd Place – $2,500
4th Place – $1,500
5th Place – $1,000