Taking the win at the FAN Central final qualifier on Lake LBJ Presented by Abu Garcia was the team of Riley Kudelka and Trace Jansen with 5th Day Anglers with Captain Sid Mueller- They brought in a five fish limit weighing 15.12. This was also the first win for 5th Day Anglers as a team. They each were awarded a $500.00 Scholarship Award in addition to a Kistler Magnesium Rod. "Captain Grandpa" won the Academy Sports+Outdoor captain award gift card.
Taking second and the Academy Sports + Outdoors Anglers of the Year Title was the always consistent team on Landen Bennett and Ty Eaton with Captain Lowell Bennett with a 15.11 pound limit of bass. Each took home $250.00 in Scholarships and a Abu Garcia Revo X plus the AOY Scholarship of $750.00 each and the Berkley Ultimate Tackle Pack to be award at the FAN Banquett
Finishing in third place with a 14.94 limit including a 5.42 kicker big bass representing Georgetown HS Fishing was the team of Kayden Miller and Canton Bizzell with Captain Justin Miller. Their third place finish earned them and an Abu Garcia Silver Max Reel.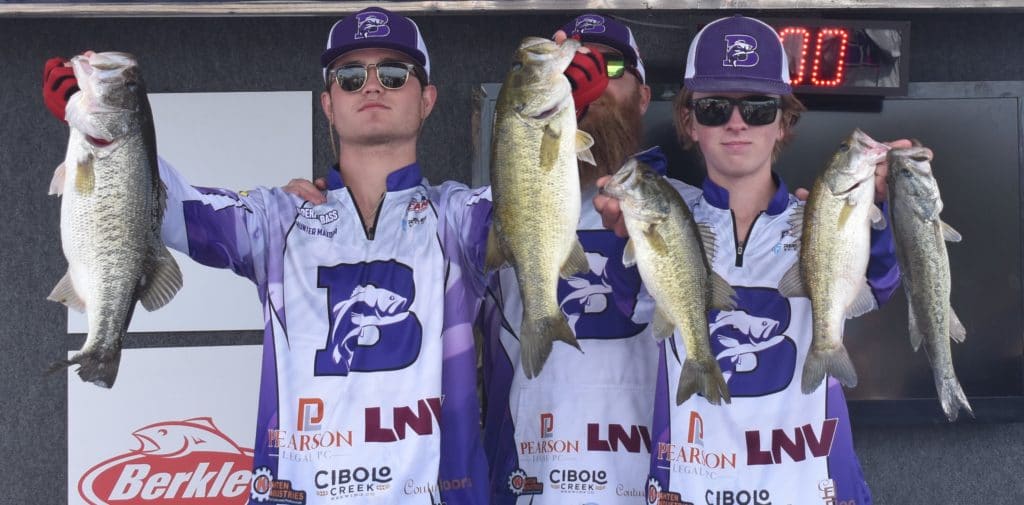 Winning the Kistler Big Bass Award and taking home a new Kislter Argon Rod was Hunter Mazour with the Boerne Bass Fishing Team. He brought in a nice 4.49 pound largemouth which help him and partner Connor Hague finish in fourth place with Captain Jed Mazour ( he's behind there somewhere)
See Results HERE