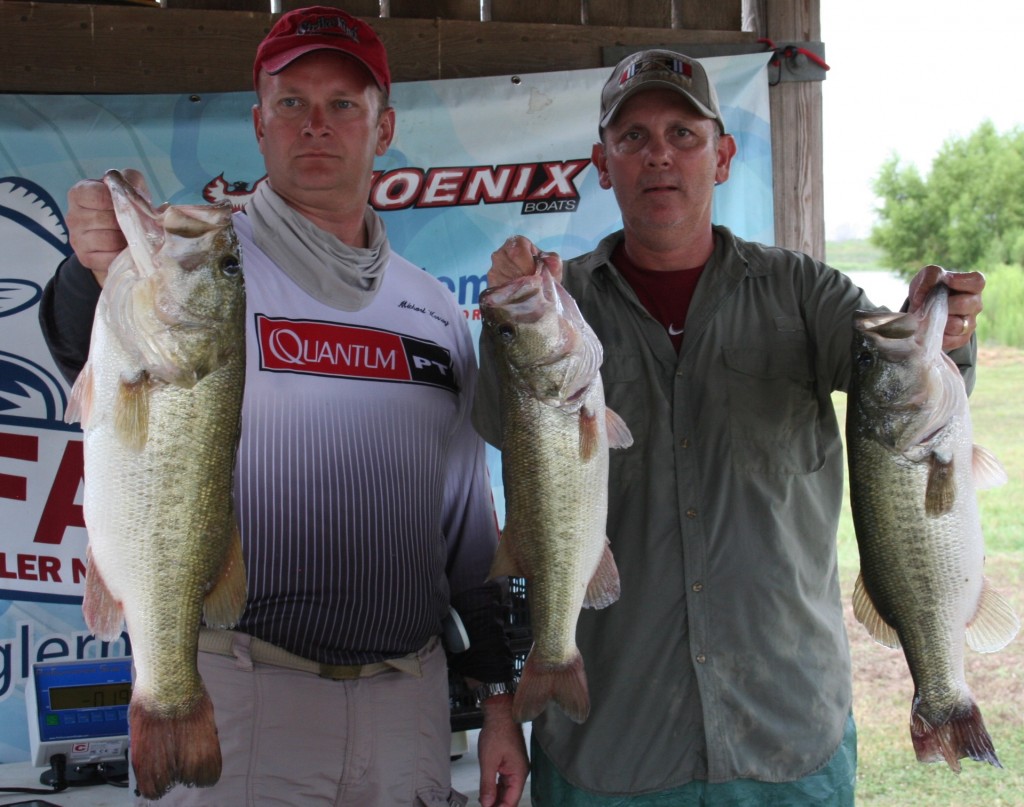 Day 2 for Kersey and Zangarine
Faith Angler Network wrapped up the 2013 season on Choke Canyon Reservoirs with a 2 day event September 14th and 15th. Sponsored by Phoenix Boats and Marine Outlet
The reservoirs, as so many Texas lakes have suffered from severe drought this year is 33 feet low. Known for its abundant large mouth bass population the outcome of a tournament can change in one bite, or in this case four bites.
Leading day one was the team of Allen Gass and Jason Stafford with five fish weighing in at 15.96 with a 7.94 kicker. Kersey and Zangaring only brought one fish to the scales, however it would be the big bass of the event weighing 8.01 pounds and leaving a 7.95 pound gap between them and first place.
"Even with this much of a lead it is still going to be tough! Anyone could win the tournament on day two, and we need a limit on both days" Allen said.
For day two the teams were released in reverse order from day one, and set off to fill their live wells with Choke Canyon's biggest bass.
As the day rolled on the weather became overcast as thunderstorms surrounded the lake. As we approached the final hour teams headed to the ramp as light rain fell around us.
With only three teams left to weigh in, the weight of anxiety spread across the faces of the families there supporting their loved ones.
Kersey and Zangarine walked up to the scales with three fish, three respectful large mouths weighing 15.96 for a total two day weight of 25.59 pounds.
Next to the scales came Gass and Stafford needing 9.64 to hold on to the lead. Just short of a limit they weigh in 4 fish for 9.19 leaving them short by .44 pounds and a second place finish.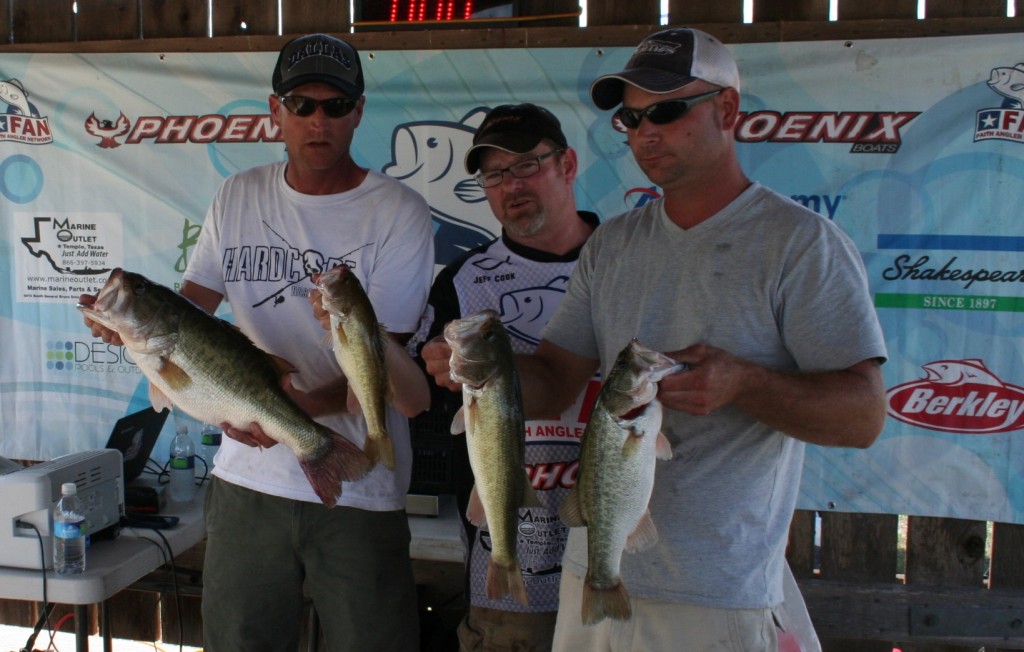 Allen Gass and Jason Stafford show off their day one heavy stringer 15.96 Kersey and Zangarine's focus was cranks baits on the main lake near the dam, they keyed in on a road bed in 15- 25 feet of water, rotating a Sexy Shad Strike King 6XD and 10XD, they also contributed a Red Eye ¾ lipless bait to help with their winning stringer. They want to thank Strike King, Lowrance, Quantum, and Seaguar Line for proving the tools to catch the big fish needed to win the tournament.
1 Michael Kersey – Partick Zangarine            25.59
2 Allen Gass – Jason Stafford                          25.15
3 Gustavo Chavira – Toby Turner                   8.54
4 David Gandaria – Brian Washburn             8.05
5 Todd Loggains – Jane Bingle                          6.19
6 Darryl Hanson – Jerry Carpenter                 5.94
7 Brandon Anderson – Anthony Lopez            2.82
8 John Ratliff – Tanner Ratliff                          2.81
9 Jason Buchanan – Terry Kircus                   2.77
10 Scott Anderson – Colt Anderson                1.29
11 David Sappington – Clifton Waters            1.00
12 Earl Loggains – Leisha Loggains                0.00
13 Bill Shelnutt – David Titus                           0.00
Total Teams: 13
Total Fish: 33 Ave. Fish per Team: 2
Total Released: 32 97% Ave. Weight per Team: 7.51
Total Fish Weight: 90.15 Ave. Weight per Fish: 2.73
Faith Angler Network is a 501©3 non-profit organization serving the Central Texas Area with Youth Fishing Events/ charity Events/ Military Supported and Awareness Events/ Professional Run Bass Tournaments. www.faithanglernertwork.com