FAN Central opened the 20/21 season on Lake Travis hosted by The City of Jones Town and Presented by Abu Garcia.
246 Student Anglers were greeted with a chill in the air as they launched their boats to compete in the season opener for the Central Division. The weather would improve as the day progressed and Lake Travis would not disappoint as one of the hottest fishing days of the year with over 42 5 bass limits were brought to the scales.
2019 Championship winners, 2020 Central AOY Anglers of the year and multiple wins and top 10 finishes the Texas Boat World team of Landen Bennett and Ty Eaton put their mark on the 20/21 season with an impressive win with Captain Lowell Bennett. Bringing a 5 bass limit weighing 17.81 pounds to include a 5.70 kicker they each took home a newly released Kistler Graphite Series Rod plus the Kistler Big Bass Rod. Captain Bennett won the Academy Sports+Outdoors Gift Card
Representing Lake Travis HS Fishing was the team of Patrick Fagan and Cannon Bartosh with Captain Brandon Fagan taking second place honors with a 5 bass limit tipping the scales at 14.42 pounds. Their efforts not only gave them valuable points they each took home an Abu Garcia Rexo X and captain Fagan with an Angler Aid safety Kit.
Taking third place with their top five fishing weighing 14.16 pounds was the Liberty Hill Fishing Team of Michael Evans and Holt Avery and Captain Lee Evans. They each took home a very nice Abu Garcia Tackle System.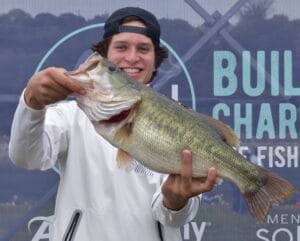 Earning the Kistler Big Bass Award and the new Junior Angler Water Body Record for Black Bass on Lake Travis, Representing Vista Ridge High School was Aidan Cruz with a beautiful Large Mouth weighing 7.32 Pounds – He and partner George Contos with Captain Zach Santos had of total of 4 bass for 9.57 Pounds, Aidan took home a new Kistler Graphite Rod ready to catch the next big bass.
Congratulations to the top 10% who will qualify for the Championship with over $12,000.00 in Scholarships and Prizes. Provided they compete in at least 3 of the 6 qualifiers this season.
1 Landen Bennett – Ty Eaton (Texas Boat World)
2 Cannon Bartosh – Patrick Fagan (Lake Travis HS Fishing)
3 Michael Evans – Holt Avery (Liberty Hill Fishing Team)
4 Gavin Gessley – Kohl Kennedy (Bass Club Of Champions)
5 Landen Graef – Seth Hart (La Vernia Youth Fishing)
6 Mason McClellan – Gavin Przybylski (Guardians Bass Club)
7 Greyson McVan – Gunner Rutherfurd (Liberty Hill Fishing Team)
8 Owen Staudt – Cade Lehne (Fredericksburg Battlin' Bass)
9 Reid Blackman – Connor Eng (Lake Travis HS Fishing)
10 George Parks -Jacob Renelt (Vista Ridge High School)
11 Dylan Kallus – Colton Hill (All Around Anglers)
– Blake Gossett (Texas Bass Academy) – Chase Garner (Hutto)
13 Evan Hamilton – Brittan Caraway (Lake Travis HS Fishing)
Congratulations to our Captain award winners

THE OFFICIAL FISHING JERSEY OF FAN