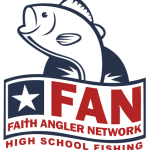 Immediate Press Release
From: Faith Angler Network
RE: FAN High School Fishing Series March 1, 2014
Lake Travis Results
Jake Read and Taylor Thomas from Vista Ridge High School win the first FAN High School Fishing Series event on Lake Travis, Presented by Brad Marshall Homes and Designer Pools & Outdoor Living.

With much anticipation and excitement 36 teams representing 7 High School Bass Fishing Clubs and over 30 area middle and High Schools ascended on the beautiful shores of West Beach Marina on Lake Travis early Saturday morning, where anglers and their captains would be greeted with unseasonable warm 53 degrees, a light southern breeze, and a cheerful FAN staff to check them in and hand them their membership bag including a FAN High School decal, t-shirt, Academy hand towel, and bag of HAVOC Pit Boss baits.
After the brief announcements, prayer, and national anthem, the teams were released by boat number to test their skills amongst the 72 other anglers.
The weather would change during the morning from a thick layer of fog and drizzle to a summer like afternoon of 81 degrees and a moderate southern breeze snapping at 12mph as family and friends made their way to the 2PM weigh in dressed in team colors to cheer on their High School Bass Teams.
As the 2PM check in drew near, teams slowly made their way to the holding tanks and FAN stage to show off the results of their day on the water and the FAN staff and volunteers captured photos of their catch.
As in any bass fishing tournament anglers would be confronted with many challenges and not everyone would catch the 5 fish limit that was ultimately needed to win this event, however several teams did manage to dissect the conditions to do just that.
The team of Jake Read and Taylor Thomas from Vista Ridge High School brought in a 5 bass limit weighing in at 12.04 pounds including a 3.81 pound "kicker bass" to clinch the lead and win the first event of the 2014 qualifiers. Jake and Taylor with Captain Dale Read made the run up the Colorado River and used crank baits to catch their primarily largemouth bass creel. Jake and Taylor's win included each an Abu Garcia ProMax casting reel paired up to a Abu Garcia Varitas 7' Medium Heavy action rod, along with an impressive first place trophy.  Dale Read would win the Academy Sports and Outdoors Captain award of a $100 Academy Gift Card.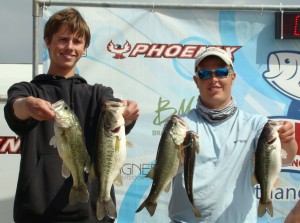 Coming in second place with 4 fish weighing 9.50 pounds was the team of Nathan Wright and Evan Coleman and Captain Allen Taylor representing Rouse High School. Although their morning started off with motor problems they would not let that slow them down, they dropped the trolling motor and stayed focused on the task at hand- "Gotta find the fish"! And that's what they did, and did in a big way; Nathan would land the biggest bass of the day with his largemouth bass tipping the scales at 5.03 pounds giving him the Kistler Rods Big Bass award taking home a 7' medium heavy Kistler Pro Series rod. They also were awarded a pair of 7' medium heavy Abu Garcia Veritas spinning rods paired to Abu Garcia Cardinal Spinning reels, and their second place trophies.
Wrapping up the third place position with an 8.83 pound five fish limit was the team of Brent Sunvison and Harrison Lansdale representing the FAN HS Bass Team with Jim Sunvison as captain. They deployed several methods to fill their live will including crank baits and soft plastics.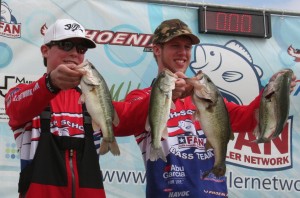 Wrapping up the top 10 teams:
4 Tyler Anderson Lake Travis – Maclin Miller Lake Travis                   8.10
5 Preston Franke FAN – Andrew Ziegler FAN                                          7.59
6 Alex Chambers Cen-Tex – Justin Tatum Cen-Tex                               7.33
7 Colt Anderson FAN – Jonathan Gray FAN                                             7.16
8 Dalton Denson FAN – Joey Russell FAN                                                 5.57
9 Tyler Wright Hyde Park – Kirk Willis Hyde Park                                  5.49
10 Cole McGuire FAN – Sheldon Allamon FAN                                         4.65
You can see all the results and photos in the tournament section here
Catch statistics:
Total Teams: 36
Total Fish: 74 Ave.                                  Fish per Team: 2
Total Released: 74 100%                         Ave. Weight per Team: 3.22
Total Fish Weight: 115.99                        Ave. Weight per Fish: 1.57
This event is not possible without the volunteers and staff to put everything together, from helping check in, set up, cook hotdogs, launch boats, park trucks, merchandizing and getting it all back into the trailer. Thank you sincerely
Jon Sigman, Justin Rieger, Gary "Skeet" Freeman, John Hyndman, Ashley Anderson, Mary Anderson, Randy and Cristi Minzenmayer, Ron and Carolyn Russell, Brook Harbison, Christina Denson, Vicki McGuire, Stephanie Heiser, Linda Langlois, Margo Lansdale, and the many others that jumped in that day to assist.
Captain Incentives and Awards
Captains are essential to the success of our High School Fishing program and we are honored to be able to recognize them with some great sponsor products and incentives.

Winning the Academy Sports and Outdoors Captain Drawing $100 gift card was Ron Seevers, Ron is the director of the Cen-Tex Bass Hunters Youth Program and instrumental in developing the High School Fishing Program in the Belton/Temple area.

Winning the SuperNova Captain Drawing for a SuperNova  Nav Kit –  $89.00 Value was Jonathan Gray with the FAN HS Bass team-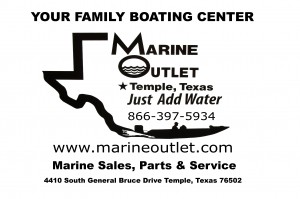 There was no winner for the Marine Outlet Captain incentive this time
To learn more about the Captain Incentives and FAQ click here
Faith Angler Network would like to say a big thank you to the wonderful folks at West Beach Marina, Bob was gracious to allow our group to take over his beautiful Marina.  For more information on West Beach Marina and their full list of service visit them at 17317 West Beach Road — Austin, Texas 78734 — (512) 266-2277  or westbeachmarina.com

We would like to thank all of our 2014 Sponsors and Supporters and ask that you give them a chance to earn your business when the opportunity arises.
Faith Angler Network is a 501©3 non-profit organization serving the Central Texas Area with Youth Fishing Events/ Charity Events/ Military Supported and Awareness Events/ Professional Run Bass Tournaments. For more information please visit our Website or Facebook